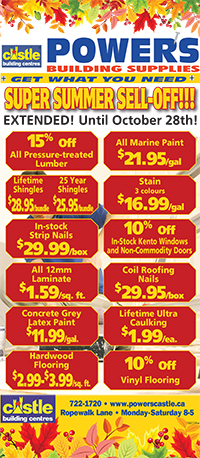 When contractors and DIYers need selection, service and experience, they shop POWER's. You'll find everything you need along with great quality and pricing. Talk to our knowledgeable staff; they want to help you find what's right for your needs. If you don't see it, let us know and we'll get it for you. Request a quote or contact us.
Building a new home, cottage, cabin or garage? Browse over 2,000 plans right now. Contractors, get the Contractor Advantage magazine mailed to your business, your subscription is complimentary. Got a special occasion coming up? A gift card is the perfect gift - for anyone, anytime. Starting a special project? Consider a Castle credit card!
If we don't have the answer to your question, we'll try to get it. If we don't have the product you are looking for, we'll try to source it and order it. If you are looking for expert advice on how to do all your home renovations, we have expert staff who will help guide you through the process.
See our Sale Flyer extended until October 28, 2017! Download PDF.